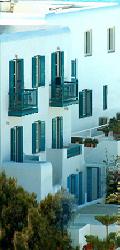 Hotel Nazos Info
Location: Myconos Town Center,
Number of Guest rooms: 14,
Manager: FAMILY NAZOS,
Address: SCHOOL OF FINE ARTS,
Mykonos Town Greece.
Zip Code:84600
Tel:+30 22890 22626, 22904
Fax: +30 22890 24604
Winter Phone:+30 22890 22626
Winter Fax:+30 22890 24604
e-mail : info@hotelnazos.com
RESERVATION FORM !

Hotel NAZOS MYCONOS TOWN GREECE
Beautifully located in Myconos town the Hotel NAZOS is overlooking the bright blue Aegean sea and stunning Cycladic landscapes, within easy walking distance of unspoilt beaches and the charming Old Myconos Town, with its tiny houses and maze-like streets, Hotel Nazos warmly welcomes guests with a friendly Greek atmosphere and hospitality.
The family-run property has been built according to the local Myconos architecture and offers traditional style accommodation, with modern comforts and facilities that will make you feel right at home. Attentive service combined with the excellent location in Mykonos Town makes the Hotel Nazos a perfect destination for truly relaxing vacations on the island of Mykonos.
-----------------------------------------|||| ------------------------------------||||

Hotel NAZOS Myconos Island GREECE


L 'albergo Nazos si trova nella cita di Myconos. E una construzione nello stil della architettura cycladitica locale.Combinando perfettamente confort moderno ed ambienza famigliale constitue il luogo ideale per un seggiorno agreabile nella isola cosmopolitica di Myconos.
Tutte le camere disposano di doccia o W.C, telefono, frigo ed una vista panoramica. Si offre un servizio 24ore/24. A distanza di 100 metri si trova la stazione di autobus permettando a lei di raggiungere divetiamonte le magnifiche piagge isola nostra.


----------------------------------------




Hotel NAZOS MYCONOS Town GREECE

L 'Hotel NAZOS est situé dans le village de Mikonos. Il a eté construit conformément a l' architecture cycladique locale. Combinant comfort moderne et ambiance familiale, il constitue l' endroit idéal pour un séjour agréable sur l' ile cosmopolite de Myconos.
Tutes les chambres sont équipées de douche & W.C, de téléphone, réfrigérateur, et disposent d' une vue panoramique ainsi que d' un service 24h/24. A une distance d' a peine 100 métres se trouve la station de bus d' ou vous serez amenés directement aux superbes plages de notre ile.
-----------------------------------------

Hotel NAZOS Mikonos Town GREECE

Das Hotel 'Nazos" befinder sich in Mikonos Stadt.Es ist mit ganz im Einklang mit dem hiesigen zykladitischen Styl gebaut worden . Da es modernen Komfort mit familiarer Atmosphare zu kombinieren weis , garantiert es Ihnen einen angenehnemen Aufenthalf auf der kosmopolitischen Insel Mykonos .
Alle zimmern sind mit Dusche und W.C. Kuhlschrank ausgestattet und verfugen uber eine panoramische sinch so wie uber runt um di Uhr Service . In einer Enteferning von nur 100 metern liegt die Bushaltstelle von der Sie schnell zu den wunderschone Stranden unserer Insel gelangen .